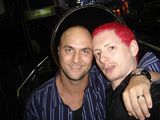 Above: Chris (our GM) and Mortimer

The Studio Six is open tonight, newly renovated for all you hot cats and cool chicks and I am serving my world famous chocolate martinis! Come on out to the club, early, because these delicious and potent cocktails go quickly! It's alcohol, chocolate and alcohol! What more could you ask for!

I was going to go out last evening but, I decided that I needed to rest since last weekend, we didn't shut until well after two in the afternoon. But what a weekend! I have an inkling that tonight will be just as busy and I can't wait.