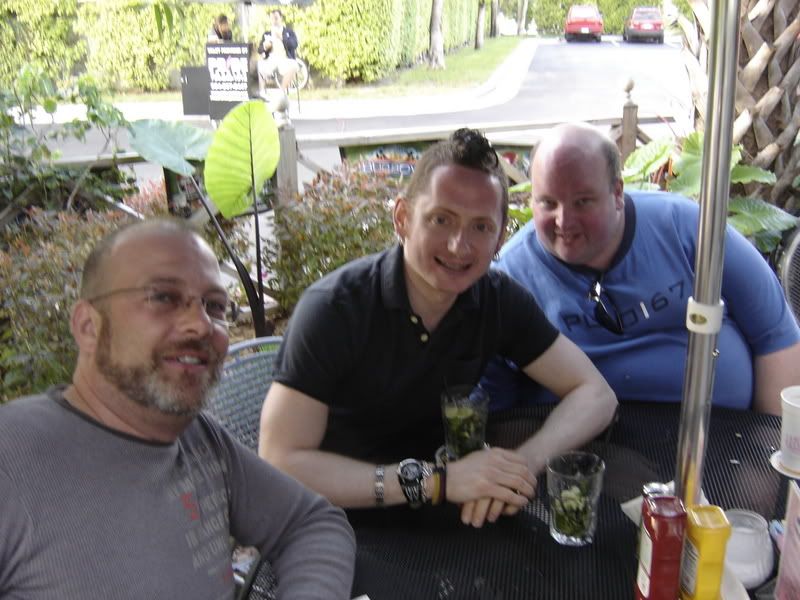 We got up early to pack and vacate the hotel and then we drove over to see Billy so we could have brunch in Lauderdale-by-the-Sea at this fabulous little bistro that Billy knew of. It's always great when you go into a place and the hostess gives you a big hug! We sat watching the waves and eating. I had two Bloody Marys with brunch which was a spinach omelet with homefries. Very tasty, especially with the TABASCO green pepper sauce. Yummy! We walked along the beach after brunch and then I went shopping for trinkets to give to those loved ones back home. Billy had the great idea to turn in "La Abuela", the rental car that La Chunk picked out, this way we could have extra time to do things instead of sitting in the airport hours before our flight. We decided to go on a riverboat cruise which took us through the rivers, canals and intercoastal waterway that lines Florida. The pictures above better illustrate that adventure. The cruise host pointed out the various homes and who lives there. Very rich and wealthy. The private yachts were bigger than the cruise boat we were on. These people have some serious "size" issues. Can you say "overcompensation"? Sure you can. I knew you could. After cocktails on the boat, we made our way back to land and walked along the soon-to-be-torn-down waterfront area in old Ft. Lauderdale. Now we were hungry and Billy then took us to this tres gay restaurant called Rosie's Bar & Grill (formerly Hamburger Mary's). It was a hoot and a hollar! This is where I made Chunkie's whole trip. As we were sitting there, eyeing the very hot wait staff and enjoying our food, I was taking a sip of my mojhito when a funny thought occurred to me. Now, this was a very funny thought and I was sipping a liquid. Can you figure out what happened next? Yes, Mortimer, the personification of class and understatement, did a spit take all over Chunkie and Billy! I knew it was gonna happen, which made it worse because I clamped my mouth shut only to make it come out like a jet stream! I couldn't believe it, I soaked both of them! Chunkie roared with laughter, thank the gods, and I wiped them both off. We met a former bartender from Atlantic City, who was dubbed Michael Sissy Fag Fag when he worked here. Don't ask. It's funny to bump into so many transplants from my little island.
The sun was setting and we went to this gay sports bar for one (or two or three) last cocktail in South Florida. The sweet bartender bought me my third drink, how nice, and I got a token to keep as a remembrance. A drink token, not a hickey, get your minds out of the gutter! Billy drove us back to the airport and, after sailing through security, we got on the plane (Note: Due to continued threat of bodily harm, I am not allowed to discuss the seating style of Southwest Airlines nor am I allowed to complain that we got there so goddamn early to be in the "A" section for no reason whatsoever!) and we flew back to the real ice age of twenty degree (6C) weather and snow in New Jersey!
I am going back in May. I am using the time before this next trip to decide what to do with my life. I realized during my trip that I could really do something with my life down there, the opportunities are many and varied. There is so much for me to do and I know that there's really nothing left for me around here. I have no real ties to this area anymore, except for some wonderful and close friendships but, airfare is cheap and it's only two hours between New Jersey and Florida. So, I will be making my plans, soon.
What a wonderful vacation.