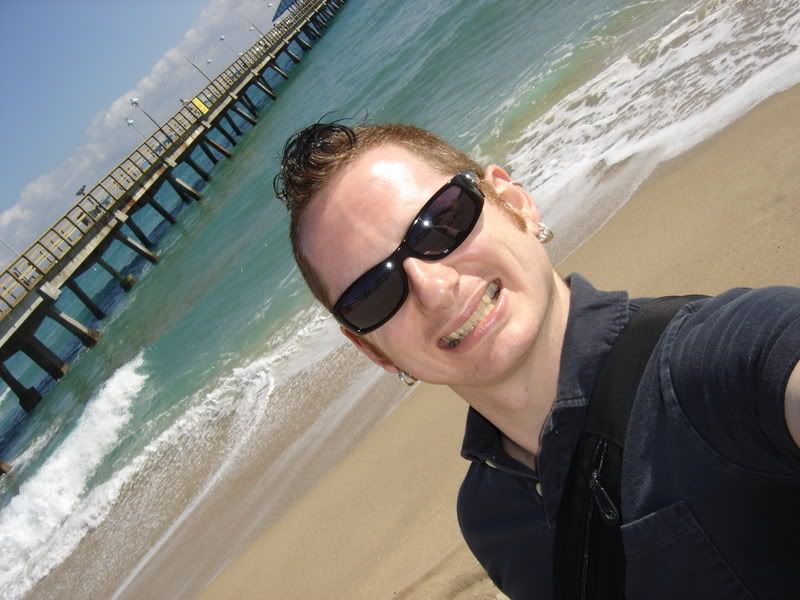 La Chunk and I got up frightfully early and began the process of packing, which included a round of furious laundry on my part. He is very persnickity about getting to the airport ahead of time and his brother came to get us promptly at 10:30am and I was not ready. Of course, I got the "I told you when he was coming" speech but, I thought I had a little wiggle room. I didn't. So, I left without shorts or swim trunks and a few other necessities because I was so flustered. No biggie, I am not a shorts person, anyway and I figured I could get a cheap Walmart bathing suit down there if the opportunity came to swim (it did).
We got to Philadelphia International Airport, (which, now that I have been traveling around the country, seems to be a third world airport) and did curb-side baggage check. So nice! Then we went upstairs and sailed through security. I have it down to a science now, all of my metal objects and mini-electronics go in my little Eddie Bauer shoulder bag which I just toss through the scanners. I did have a minor problem with my shoes. It seems there was a residue of something suspicious on them, probably from the club since I have worn those shoes there. They did a quick swab and I was cleared. We then walked all the way to the last gate, why I am ALWAYS at the last bloody gate is beyond me.
And then, we waited. Note: Due to continued threat of bodily harm, I am not allowed to discuss the seating style of Southwest Airlines nor am I allowed to complain that we got there so goddamn early to be in the "A" section for no reason whatsoever!
We got on our flight, picked out seats, got comfy and we were off! We ended up getting to Ft. Lauderdale in great time, landing a fullhalf hour before we were scheduled. La Chunk informed me that they pad the schedules because of excessive air-traffic but, we must have gotten there at the right moment because we landed and were on our way to baggage. That was another blessing. By the time we made our way through the gorgeous Ft. Lauderdale/Hollywood Airport to the baggage claim, the bags were already coming out. We grabbed them and wandered over to the car rental area. Alamo was the first rental company at the top of the escalator and the next thing I know, we were tooling down I-95 at rush hour but, in another fabulous bit of luck, our exit was right before the traffic began to back up.
Then another blessing came our way. We booked the room through a mutual friend of ours from south Florida and she gave us the "friends and family" rate, which was $59 a night, quite nice for our suite. But, by the time the arrangements were done and we got the room, it was for the employee rate of $39 a night! Can you say "hook up!"? Sure you can! And the room was right next to the pool. I mean, when we opened the curtains, there was the pool. And they said there was no view!
We got our act together and made our way to see our dear friend Billy who, incidentally, used to live in the Penthouse and sleep in the room I now occupy. We marveled at the changes to his bungalow grounds, and the clean-up and regrowth of the whole area since Hurricane Wilma. We played catch-up, had a cocktail (or two) and then we did a little shopping. There were plans for all of us and Billy's beau, Paul, and a few of their other friends to go to dinner so, La Chunk and I made our way back to the room and got ready.
We ended up at this cute little Italian restaurant named Vincent's. They use existing buildings for new purposes down there and we had a fun time trying to determine what the building used to be since the bathrooms were around back. Chunkie thought it was an old drive-in restaurant but I think it was formerly a gas station. There were seven of us altogether and I was just amazed at the food. Absolutely delicious. I had the sweet Italian sausage over penne pasta in a marinara sauce and it was delightful. The sausage was spicy and sweet and melted in the mouth. The wines were top-notch and the Caesar salad dressing was tart and tasty. The pate was also incredible, over toasted sourbread slices. Yummy! Billy picked up the bill, I saw him excuse himself for the bathroom and grab the waiter and give him his credit card, the cheeky bastard! But, to our surprise, the entire meal, including the wine and appetizers, was only $150. For SEVEN people! Amazing! As a side note, I marveled at the patrons in the restaurant. I have not been in a room entirely full of gay men in a very, very long time. It was disconcerting, only because I am just not used to it anymore. I travel in very mixed company. Two of my closest friends are straight and most everyone I know now is not gay so, it was odd to hear the "gay accent" coming from everyone there.
We popped over to Scandals, the gay country bar that Billy works at, for an after dinner drink (or two or three) and then La Chunk and I had to call it a night. We didn't want to tempt the fates any further, they were more than generous to us all day and you know that the piper must be paid at some point. We got back to the room and slept deep and happy, there was more to do/see in the coming days and we needed to rest up!
Coming up: Swap meet, facials and Chunk's cheaps!