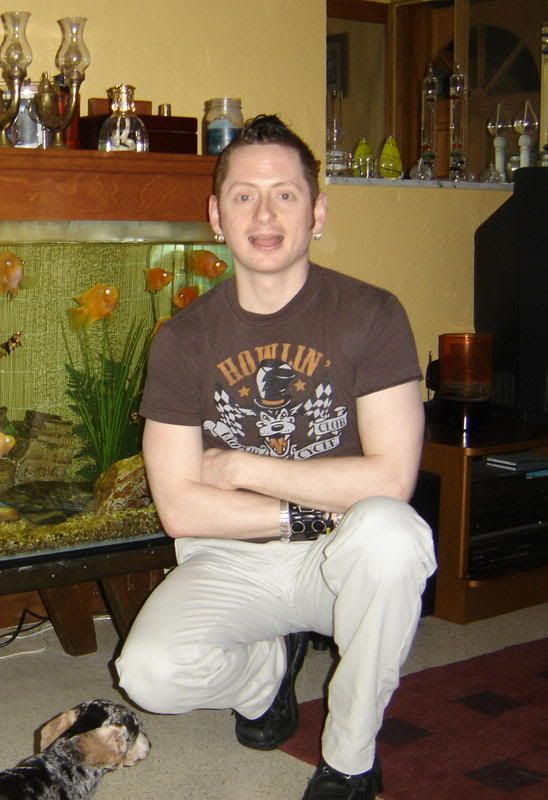 Or so you'd think. The temps dropped to the sixties (around 20C) and the people down there were literally walking around in parkas. And umbrellas, due to the torrential rain (which they needed). It was nuts!
We got up (me with a mighty hangover) and made our way down to Hollywood to do some shopping for what we refer to as "Chunk's Cheeps!". That goes back to La Slut's days at Walmart when he would ring us up when things went on major markdown. Whilst we were there, we decided to go to the Seminole Hard Rock Hotel & Casino to see our friend, the fabulous Susan Rennissen! Well, she wasn't answering her mobile nor her business phone, the bitch, so we decided to walk around, gamble a little and then get something to eat at the Hard Rock Cafe. Our waitron was fabulous, this cute girl who did open mike night late into the evening before so, I was loving her. Funny, cute and a party girl, just my type (well, if I could get over the whole homosexual thing)! As we were eating, La Whore sees this rockin' blonde chick in tight leather pants (D&G) walk in and make her way to a table at the far end where a birthday party was happening. By the looks of the people at the table, it was the tribe members that own the casino. We realized it was our Susan (fabulous!) but, I didn't want to barge over there, I mean, I don't like crashing parties without bringing something. I gave my business card to our waitron and had her give it to Susan, discreetly. Well, she came running over to our table and sat right down! I love her to pieces! We played catch-up and then, out of the blue, she referred to a message we had left and she got up and left us for a minute. When she returned, she gave us cards and told us the she arranged a day at the spa for us at the casino! HOW FABULOUS IS THAT? I took advantage of the gym and La Prostitute did the facial treatment. The gym overlooked the pool area so, while working out, I waslooking at palm trees and waterfalls. How fun! After a great workout (Susan came in and we chatted some more and I thanked her profusely), I met up with La Hooker and we went shopping some more. I found over a hundred dollars of items at the Gap for less than ten dollars. Does La Street-Walker know how to find a bargin or what!?!
We then went back to Ft. Lauderdale and our room to get ready for a bar-b-que dinner at Paul's home. The weather kind-of cooperated and we took a quick dip in the pool right outside our room. It was heated, which was a good thing. It was kind of chilly, I must admit, especially after getting out of the water and running back to our room to shower and get dressed.
What a dinner it was! Our friend, Billy, has a not-so-secret admirer at the meat market where he goes and he got the major hook-up on these delicious steaks. I mean, it was over a hundred dollars worth of steak for peanuts! Yum! Everything was so good, the green beans, the baked potatoes, the garlic bread but the best was the leanest, fattest, like-butter-in-your-mouth steaks. Kevin Covello, a good friend from the Atlantic City area who now lives in Florida, was also in attendance and we all bored poor Paul to death with tales-gone-by of A. C.'s heydays. Oh...I got to see manatees! Well, not in person but, they had a video of a manatee cow and calf that swam up to their dock (Paul lives off of one of the many canals) for some fresh water out of the hose. They really do look like mermaids.
We went out for a cocktail (or two or three or four, of course) back to Scandals Saloon where I got a T-shirt, and then off to their soon-to-be-new-location, Elements. After the day we had, La Trollop and I finally went back to our room and slept deeply. Friday was going to be a busy day so, we needed our rest.
Next up: Decisions, boat rides, shopping and homeward bound!